One Hundred Hungry Ants (Paperback)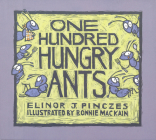 $7.99

Usually Ships in 1-5 Days
Description
---
One hundred hungry ants march off single file to sample a picnic, but when the going gets too slow, they divide into two rows of fifty, then four rows of twenty . . . until they take so long that the picnic is gone!
About the Author
---
Elinor Pinczes and Randall Enos have collaborated together on another book for children, My Full Moon Is Square. Ms. Pinczes is the author of several other books for young readers. She lives with her husband in Bozeman, Montana. Mr. Enos's illustrations have appeared in books, magazines, and newspapers for more than forty-five years. He lives in Easton, Connecticut, with his wife.
Bonnie MacKain has had illustrations featured in
Cricket
and
Ladybug
.  
Praise For…
---
"A first-time author and illustrator are off to an impressive start in this spirited story . . . The unexpected pairing of sophisticated art and light-hearted text lends this book particular distinction." Publishers Weekly

A rhyming text describes the progress of one hundred ants marching toward a picnic. To travel faster, one ant suggests dividing into two lines of fifty, then four lines of twenty-five, and finally ten lines of ten. Their frantic reorganization takes so long that the picnic is gone by the time they arrive. The illustrations, which look like linoleum cuts, use a pleasing palette and energetic lines to depict ants with highly individual characters.
Horn Book —