The Princess and the Warrior: A Tale of Two Volcanoes (Hardcover)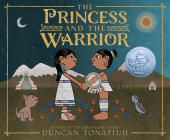 $18.99

Usually Ships in 5-7 days
Description
---
A Pura Belpré Illustrator Honor Book
ALA/ALSC Notable Children's Book!
STARRED REVIEW *"A palette of earthy, evocative colors . . . A genuine triumph." ―Kirkus Reviews
"Use this Aztec legend to inspire readers while teaching a bit about dramatic irony." —School Library Journal

Award-winning author and illustrator Duncan Tonatiuh brings a cherished Mexican legend to life.

Izta was the most beautiful princess in the land, and suitors traveled from far and wide to woo her. Even though she was the daughter of the emperor, Izta had no desire to marry a man of wealth and power. Instead, she fell in love with Popoca, a brave warrior who fought in her father's army—and a man who did not offer her riches but a promise to stay by her side forever.

The emperor did not want his daughter to marry a mere warrior, but he recognized Popoca's bravery. He offered Popoca a deal: If the warrior could defeat their enemy, Jaguar Claw, then the emperor would permit Popoca and Izta to wed.

But Jaguar Claw had a plan to thwart the warrior. Would all be lost? Today two majestic volcanoes—Popocatépetl and Iztaccíhuatl—stand overlooking Mexico City. They have been admired and revered for countless generations and have formed the basis of many origin and creation myths.

The integration of Nahuatl words (defined with a pronunciation guide in the glossary) into the narrative provides a rich opportunity to introduce and explore another facet of ancient Aztec culture. Take your child on an adventure back in time to a land of color and beauty.

About the Author
---
Duncan Tonatiuh (toh-nah-tee-YOU) is an award-winning author-illustrator. He is both Mexican and American. He grew up in San Miguel de Allende, Mexico, and graduated from Parsons School of Design and Eugene Lang College in New York City. His artwork is inspired by pre-Columbian art. His aim is to create images and stories that honor the past, but are relevant to today's people, especially children. He currently lives in San Miguel with his family but travels in the United States often.
Praise For…
---
**STARRED REVIEW**
"Using his trademark digital collage style, the author crafts brutally stunning scenes full of sharp angles using a palette of earthy, evocative colors. The text pops with incisive purpose, making every action feel monumental... Equal parts melancholic and transcendent—a genuine triumph."
— Kirkus

**STARRED REVIEW**
"The appealing story, the powerful illustrations, and the celebration of the Aztec culture make this a sure thing for those looking for a story, while an extensive author's note goes a step beyond, adding to the impact of the tale with a great deal of historical and cultural information."
— Booklist

**STARRED REVIEW**
"Tonatiuh's storytelling grows more assured with each title; this may be his best yet."
— The Horn Book

**STARRED REVIEW**
"A skillfully crafted recounting of a somber tale of love and devotion."
— Publishers Weekly

**STARRED REVIEW**
"Award-winning author/illustrator Tonatiuh successfully retells this ancient tale using his distinctive and artistic illustrations with spare but effective text... Use this Aztec legend to inspire readers while teaching a bit about dramatic irony; a first purchase for all folklore collections."
— School Library Journal

"There is a solemn tone to the simple storytelling, which simultaneously evokes the antiquity of the tale and makes it accessible to younger independent readers."
— Bulletin of the Center for Children's Books