The ABCs of Women in Music (Hardcover)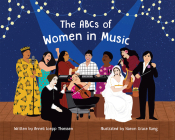 $18.95

Usually Ships in 5-7 days
Description
---
This vibrantly illustrated children's picture book highlights the contributions of women to music, representing a diversity of ages, races, time periods, abilities, and geographic regions.

Meet Clara the composer, Ella the jazz singer, Selena the pop star, and Xian the conductor! Women in music are brilliant, creative, brave, and resilient. They are composers, conductors, singers, musicologists, electronic music producers, and so much more. In this vibrantly illustrated picture book, meet 26 remarkable women musicians who collectively span over 1,000 years of music history and represent a diversity of cultures, races, professions, and abilities. Their incredible stories and beautiful work are sure to inspire a new generation of musicians!
About the Author
---
Anneli Loepp Thiessen is a PhD student in music living in Ottawa, Ontario, where her research uses an intersectional approach to highlight the important contributions of women in music, noting a diversity of age, race, ability, and orientation. She has been a music teacher for more than 10 years. This is her first children's book. Haeon Grace Kang is a visual artist from Winnipeg, Manitoba, where she studies theology, marriage and family counseling, and fine arts. She seeks to highlight the diversity of women's bodies, experiences, and backgrounds in her work.
Praise For…
---
"In this book, Loepp Thiessen and Kang spotlight the uniqueness of women in music, inspiring big dreams and making children believe anything is possible. There is great power in that." — Gabriella Di Laccio, Soprano and Founder of Donne Women in Music

 

"Women and music, two universally life-giving forces get combined in this delightful book. Enjoy." —Tanya Tagaq, Juno award winning composer and Inuk throat singer

 

​"This book is a timely and uplifting resource for women and girls around the world!" — Quilla, Electronic Music Producer, DJ, and Songwriter