Pray Daily for Families: Morning and Evening Prayer Reimagined for Children (Hardcover)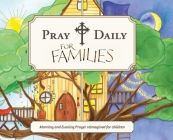 $24.99

Usually Ships in 1-5 Days
(This book cannot be returned.)
Description
---
Pray Daily for Families is Morning and Evening Prayer reimagined for children. 10 beautiful full-page illustrations teach young children simple daily prayers that involve their bodies and engage their imaginations.
A devotional aid to help you and your children build a habit of more regular and purposeful prayer, Pray Daily for Families is arranged in the Anglican Prayer Book tradition and suitable for all Christians seeking a deeper relationship with God.
This book sets the two daily offices of Morning and Evening Prayer within the context of an illustrated children's book. As your family prays through this book together, you will also discover a whimsical story that will engage your child's imagination. The images in this book have been shaped by one guiding question: When a child hears the words of the liturgy, what do they see?
Creating an illustrated children's prayer book was a multi-year collaborative process involving an entire team of creators. Phaedra Jean Taylor has given us a beautiful answer to this question with her vibrant and colorful illustrations. Calligrapher Autumn Swindoll provided original titles and headings that help shape the book.
We hope Pray Daily for Families will help to form your children into life-long worshippers.