The Bubble Wrap Queen (Paperback)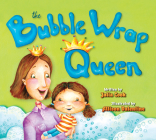 $10.95

Usually Ships in 5-7 days
Description
---
In The Bubble Wrap Queen, Julia Cook has created a book that teaches the key B.A.S.I.C.S of injury prevention, Be Aware and Safe in Common Situations, to creatively address:
Playground safety
Poison control
Automobile safety
Bicycle safety
and more
While The Bubble Wrap Queen undoubtedly makes learning these and other such safety messages more fun, the underlying messages are no laughing matter because the more your child enjoys reading and learning about them, the more they stick. And the more they stick, the more likely they are to save lives Includes parent safety tips.
Endorsed by National Safety Pediatric Experts, Dr. Marilyn Bull and Dr. Laura Jana.
About the Author
---
Julia Cook, M.S. is a national award-winning children's author, counselor, and parenting expert. She has presented in thousands of schools nationally and internationally, regularly speaks at education and counseling conferences, and has published children's books on a wide range of character and social development topics. The goal behind Cook's work is to actively involve young people in fun, memorable stories and teach them to become lifelong problem solvers. Inspiration for her books comes from working with children and carefully listening to counselors, parents, and teachers, in order to stay on top of needs in the classroom and at home. Cook has the innate ability to enter the worldview of a child through storybooks, giving children both the what to say and the how to say it.Allison Valentine is an artist and illustrator who spends her time creating fun and colorful artwork from her Connecticut art studio. She has illustrated multiple children's books, including several of Julia Cook's previous books, and has also received the AEP (Association for Educational Publishers) Distinguished Achievement Award.