Jerry and Bob, The Mighty Hunters: The Cure (Hardcover)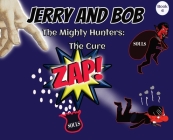 $34.98

Usually Ships in 5-7 days
(This book cannot be returned.)
Description
---
Jerry and Bob, The Mighty Hunters: The Cure
No purchase is necessary, all "Jerry and Bob" books will always be free to read online at https: //jerryandbob.com/
BOOK FOUR: Jerry thinks he sees an angel so he and Bob slowly approach it. Jerry is bothered by this "sin thing," because he doesn't understand it. He likes to solve problems, but this has him stumped. But Bob knows how to fix it.
Two 10-year-old boys trying to understand the world and God.
Get to know them and the characters they meet. See what they learn, or maybe don't learn. Try and view the things they try and comprehend with a child's mind.
One is bold and curious, the other timid, or possibly just humble.
Of course, we can't forget about Old Man Jenkins. And oh yeah, then there's Sally.
_________________________
This story is about Jerry and Bob, but the sole purpose of it is to teach children and adults about Jesus Christ.
These books are for educational purposes, scriptures are shown at the bottom of certain pages. I hope you enjoy it.
Curtis Stowell