A TRUCK FULL OF MONEY
TRACY KIDDER
Tracy Kidder's new book is the story of an American entrepreneur. Paul English was a restless, rebellious working class boy who saw his destiny the first time he saw a computer, and discovered in hmself not only a native affinity with the Internet, but a talent for putting together teams of creative people. Eventually he co-founds the travel website Kayak.com and makes, as a friend predicted early on, "A truck full of money" but only wants to give it away. Here is a portrait of a man who struggles with mood, who inspires intense loyalty, and who is amazingly free from greed.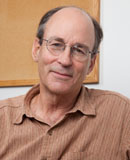 Tracy Kidder is the Pulitzer Prize-winning author of Soul of a New Machine, as well as House, Among Schoolchildren, Home Town, Mountains Beyond Mountains, and Strength in What Remains. He lives in the Valley.
This Event will take place at Edwards Church.
Event date:
Thursday, September 22, 2016
Event address:
Edwards Church
297 Main Street

$28.00
Email or call for price
ISBN: 9780812995244
Published: Random House - September 20th, 2016
---